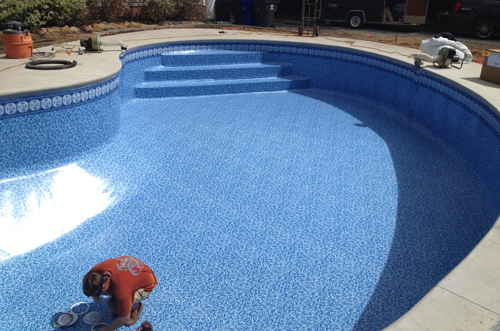 Serenity Pools specializes in pool liner replacements in the Triangle area. With over a decade of liner installation experience, we use the highest quality liners in the industry. When you choose Serenity Pools, we will measure your pool to get the exact dimensions. The liner is computer designed and manufactured under strict quality control. This will ensure that you will receive a liner that has been custom manufactured to fit your pool and it will provide years of satisfaction and enjoyment.
When we install your liner, we will drain the pool, remove and dispose of the old liner, prepare and clean walls and bottom, replace all fittings (returns, skimmer faceplates & main drain) and fill the pool. The homeowner is responsible for supplying the water to fill the pool.
Installation of the liner is generally completed in two days.